Just one of those weeks!! - w/c 17th April 2023 – Robert Chapman RC2 CEWales Member
The week commencing 17th April 2023 was just another week …..or so I thought. There were appointments in my diary, but little did I realise that there was a degree of commonality and connectivity between them.
The week kicked off with a gathering organized by the National Infrastructure Commission for Wales (NICW) and RTPI Cymru. Sessions included:
• Getting the Policy Right
• What has been delivered?
• The Quality of Welsh Communities Since Devolution
• What is Needed to Achieve Our Ambition
• Placemaking in Wales
I look forward to reading the notes summarising the proceedings. I suspect a note will be published on the NICW Digital Garden web site. I know that the Chair (Dr David Clubb) is keen on open transparency.
During the morning's proceedings, I had to 'step out' (for an hour) into an online meeting organised by the Good Homes Alliance (GHA) and Town and Country Planning Association (TCPA) showcasing the progressive work of Local Authorities in developing, and successfully adopting, net zero planning policies. It was entitled: ''Local Authorities Leading the Way - Net Zero Planning Policy''. It was good to hear about the pioneering work of Bath & Northeast Somerset (B&NES), Cornwall Council and Cambridgeshire. Recent announcements reaffirm the fact that forward-thinking councils can set their own ambitious targets that go above and beyond minimum national standards. The work at B&NES, Cornwall, Cambridgeshire, and others will help set a precedent for other to follow in their footsteps and meet their climate emergency commitments.
The NICW / RTPI gathering finished late afternoon. I then attended an evening event for the professional and membership bodies of BEAC (the Built Environment Alliance Cymru) organised by CIOB Wales entitled: ''The perfect storm: Bridging the construction industry's skill gap''. 
'The construction sector in Wales faces unprecedented pressure. With an ageing population and elevated levels of turnover in the industry, CITB predicts that an extra 9,100 workers will need to be recruited from 2023 to 2027.'  
It is suggested that the Construction Sector needs a long-term solution to the construction skills conundrum. To boot, it needs to attract diverse entrants to the industry from all levels of society to prepare for low-carbon, Net Zero and digital skills, as well as MMC (Modern Methods of Construction).
I entered the evening on Tuesday 18th having attended a webinar in March 2023 (organised by Unlock Net Zero) entitled: ''Green skills: the recruitment and retention challenge''. The introductory narrative to that webinar is set out below.
''There is currently a disconnect between the need for roles in sustainability, retrofit and energy, and the availability of staff and skills within the housing sector. To reach net zero by 2050, 350,000 new roles will need to be created in the construction industry by 2028 and the UK's retrofit industry must grow by ten times. What is the role of training centres and academies in addressing the skills shortage at scale? How do we attract and retain the next generation of talent? How do we position sustainability and zero carbon retrofit as a career of choice?''
During the March webinar, research by WSP was highlighted. Yes, we need green jobs for a green future but WSP's Green Skills survey revealed that construction was amongst the least desirable careers for young people! Why I pondered?
Jim Coleman from WSP revealed his reflections which are set out below.
1. How are young learners finding out about the Green Economy & Net Zero? Should learning providers, including schools be better equipped in communicating and encouraging interest? 
2. How can critical sectors such as construction be made more attractive to target audiences? 
3. Can industry and employers play a more active role in facilitating subject-matter and sector choices? 
4. How to encourage more innovation in skills development e.g., using the apprenticeship levy more flexibly?
During the CIOB evening event, and in response to the lack of people going into construction careers, Leigh Hughes, Bouygues UK & CITB Wales Chair revealed that there are circa 16,500+ people in full time learning (involved in Construction and the Built Environment Training in Wales) who are not on apprenticeship programmes and he challenged all in attendance on how do we transfer these learners into employment to have an impact on the skill shortages?
I am unable to comment on the numbers because I do not have the data, and I am not at the 'sharp end'. However, in my humble opinion, I wonder whether construction / the Built Environment has an image problem ……. certainly regarding the former vis-à-vis dirty boots / wet muddy conditions etc., etc and yet the industry (as I see it) is having to respond to the demands of Net Zero, Carbon Reduction, MMC, the deployment of 'Tech' etc., etc. In other words, it strikes me that the sector is becoming (and having to become) more sophisticated and appeal worthy. Furthermore, during the evening, I posed this question: ''Is there the need to create an all-encompassing information source / portal for training opportunities? ….. and conversion opportunities?'' Answers on a postcard please.
On the Wednesday of the week in question, I attended an online event organised by the Social Value Portal , a BCorp certified organisation who developed the respected National Themes, Outcomes and Measures (TOMS) framework. It is endorsed by the LGA and used by many public sector organisations across the UK. Anyway, their event on the Wednesday ''Win More Bids - Central Government'' was to the point but useful (video embedded in the link). Notably, I thought the 'Bidders checklist' was useful (figure 1).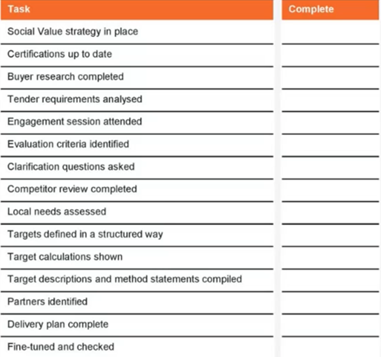 Figure 1: Bidders Checklist – Social Value Portal
Whilst on the subject of Social Value, the UKGBC's framework provides a handy checklist (figure 2).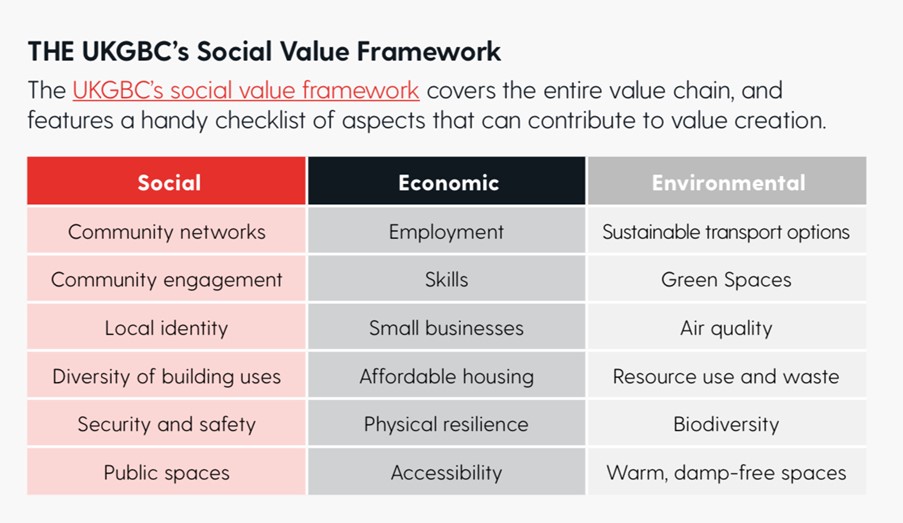 Figure 2: UKGBC's Social Value Framework
On the Thursday, I attended an early morning breakfast meeting organised by Berry Smith. The principal theme could be summed up as the 'war on talent'. There were talks highlighting how a diverse and inclusive workplace can provide employers with a competitive edge in their marketplace, as well as a specific talk on Business Immigration Practice. I gleaned a sense that global mobility in the guise of immigration for business was robust / very active against a backcloth of unemployment / unfulfilled roles – a paradox perhaps when many people who voted for Brexit conflated the subject with immigration. Simply because of the juxtaposition of meetings, this breakfast meeting made me reflect on global mobility vis-à-vis the shortage of people skills in the construction sector! 
Following the breakfast, I shot back to my office to do some initial preparatory work for the Construction Excellence in Wales awards. I am one of the judges for the Net Zero and Sustainability Awards respectively.
Then late afternoon, I made my way over to the Design Commission for Wales office in Cardiff Bay for an evening event. Just prior to that, I went online again and attended the Turner & Townsend Global event ''Real estate decarbonisation''. This was a follow up to a successful event held in 2022  carbon crunch time. The keynote presentation came from Liz Zeidler, Chief Executive of Centre for Thriving Places, who argued  that we must switch the economic compass from focusing solely on growth towards new measures for sustainable wellbeing. Her slide on the future of the Built Environment caught my eye (figure 3).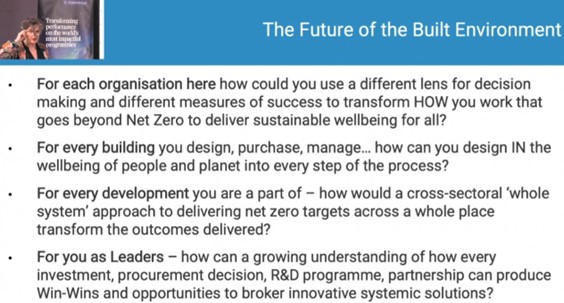 Figure 3: Presentation by Centre for Thriving Places at Real Estate Decarbonisation event. 
Before the end, I jumped out of that online meeting into a real meeting at the DCfW office to attend the 'LETI National Roadshow 2023 – Cardiff'. For LETI, and the attendees, it was a night of discussion and networking, hearing the local knowledge of sustainable design and workshopping ways LETI could support local initiatives and integrate into the local discussions on the built environment. Apart from a review of LETI's publications, workstreams (current & future) etc., there was a discussion on local drivers/barriers for zero carbon buildings. Reference was also made to the UK Net Zero Carbon Buildings Standard. 
Wow, quite a week of (per chance) connected meetings!