Exemplar: Design Stage A465 Heads of the Valleys (Section 2)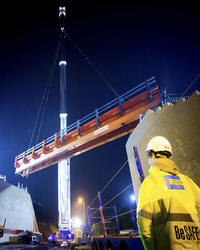 Download: Presentation
Hosted jointly with CECA and ICE. The A465 is recognised in the Welsh Governments National Transport Plan as a strategically important route. The dualling scheme extends for 8.1km from Brynmawr in the West to Gilwern in the East. This will connect the previously completed Section 1 (Abergavenny to Gilwern) and Section 3 (Brynmawr to Tredegar) schemes. The scheme includes the construction of 14 major structures, over 12.5km of various types of retaining walls as well as excavation of over 1.2 million m3 of earthworks. All this through an extremely narrow rock gorge with a river on one side while maintaining current traffic flows on the existing route. Many of these are elements which are pushing the boundaries of standard construction techniques including the largest span precast concrete arch in the UK, along with installing a fully precast deck to the S08 River crossing structure in order to reduce working at height and the risks associated with it.
Lying within the Brecon Beacons National Park the team also have considerable environmental challenges to deal with including Special Areas of Conservation, several Sites of Special Scientific Interest and Scheduled Ancient Monuments. This improvement to the A465 is also critical to the social and economic regeneration of the Heads of the Valleys area. It will improve access to key services, jobs and markets supporting inward investment to areas.
The Project was awarded by the Welsh Government to Costain in June 2011. This marked the commencement of the Early Contractor Involvement (ECI) phase. Key successes to note are the completion of the preliminary design leading up to the publication of draft Orders in October 2013 and a successful Public Local Inquiry in March/April 2014. Construction commenced in December 2014 with completion aimed for Late 2018.
The team will be expanding on the above and the innovative, Exemplar and Best Practice elements of the scheme at the event so sign up early.
How to Book: This event is free of charge but you must register in advance. To reserve your place please email cewalesevents@cewales.org.uk stating your full contact details and the names of all delegates wishing to attend. Substitution of delegates can be made at any time.
Non-attendance by any registered delegate will be charged £20 plus VAT.