Random Reflections from Robert Chapman, an Independent Property Adviser
1. Sustainable Buildings
I became aware of this CIM research recently on sustainable building ratings in the UK vis-à-vis commercial tenant preferences in the UK Office market. I have summarised below some of the key findings (notwithstanding the forecast decline in Office developments).
68% consider moving their business due to a poorly performing building that contradicts company ESG policy.
53% saidreducing day-to-day operational and energy costs would significantly impact their decision on new office space.
89% of decision-makers said Net Zero was an important part of the employee value proposition.
75% said they considered their office buildings' sustainability as part of their Net Zero plans.
94% of decision-makers said they would accept paying more for a greener office space.
Imho, they represent a 'slap in the face' to the UK government's 'rowing back' on decarbonisation, which of course includes the Built Environment (e.g. housing) vis-à-vis undoing green policies.

2. Quality is everything.
This really ought to be obvious, but asking a rhetorical question, what has the construction (built environment) sector learnt from the 1994 Latham Report and the subsequent 2016 Farmer Report 'Modernise or die'? Let me highlight a couple of things.
(a)    Procurement: a few weeks ago, I attended an IStructEng event. A presentation was given by Jeremy Kent MIStructE, Associate Structural Engineer, Curtins about Reinforced Autoclaved Aerated Concrete (RAAC) planks. The planks were used in construction from the 1950's to the 80's and were expected to have a 30-year design life. RAAC elements are believed to occur in potentially thousands of buildings across the UK. One of my lateral thinking reflections here is around the acronym MEAT (most economically advantageous tender). Yes, I am linking this (amongst other things) to procurement. A recent snippet in 'Building' reveals that the number of hospitals found to contain unsafe reinforced autoclaved aerated concrete has gone up by 40%. Apart from the disruption to these critically important facilities, does this give resonance to the old adage ''Penny shy, pound foolish''?
(b)   Skills / pride etc: a recent article by Oliver Wainwright (with evidence) presents a damming view of the private sector house building sector, posing the question 'why are Britain's new houses so rubbish'? As an understatement, the power of social media exposes exceptionally poor quality workmanship.
Whilst there may well be a myriad of issues around ''recruitment and retention struggles, access to procurement contracts, and financial viability in a high-inflation economy'', I do not accept that this should lead to poor quality. Indeed, thinking about the future, this leads me to think about skills and the current Net Zero Sector Skills Consultation about Net Zero Skills. This includes electricity and heat generation and highlights the fact that currently there are significant labour shortages in this sector with a huge growing demand for new skills in building construction and retrofit. In part, this may well explain the origination of the all-Wales Net Zero Carbon Hwb, a project which commenced in June 2023. It has been established by Welsh Government as an all-Wales agency to help developers, Local Authorities, Housing Associations, and residential social landlords reduce the negative impacts of homes, in both building and operation. I think this is a very positive step.  
It is suggested that the UK is undergoing a retrofit revolution now to meet its target of reaching Net Zero emissions by 2050 and raise the energy efficiency of UK homes by 2035. Domestic retrofit is the process of upgrading our homes to make them more energy efficient, reducing carbon emissions and creating homes that are healthier and cheaper to live in. I am not convinced yet that we have the required, wide ranging skills in Wales, notwithstanding the potential economic benefits. As an aside, I am impressed by the proactive approach to accelerating retrofit across the West of England. Might there be some lessons to be learnt?
Finally, in this part of my random reflections, I just wanted to highlight a recent piece of research by the Good Homes Alliance (GHA) entitled 'The Green Shift'. Yes, financial incentives (from the Financial Services Sector) for higher environmental performance of new (and existing) homes is highly relevant imho.

3. Events (CPD)
There continues to be quite a lot of stuff happening in this space. I have highlighted a few things below.
(a)    On Thursday 21st September 2023, I attended an online event on ''Decarbonsing Steel – Shaping a Cleaner Greener Industry'', c/o The Supply Chain School.
(b)   I attended an in-person event at The Big Moose in Cardiff, c/o AtkinsRealis – a Next Gen event on 'Social Value'. Of all the slides, these two caught my attention.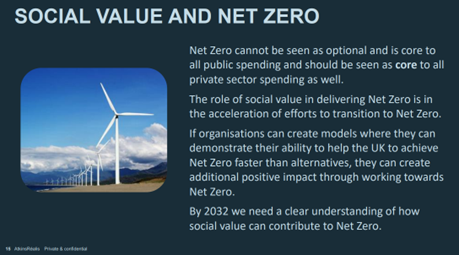 AtkinsRéalis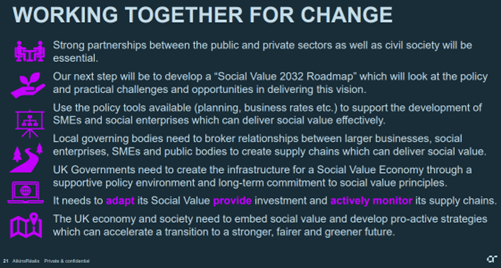 AtkinsRéalis
(c)    It was nice to receive an invitation to an event in the Morgan Arcade, Cardiff City Centre on Friday 13th October from the National Director, Royal Society of Architects in Wales. It was a celebration event and Practice Exhibition, which closed their design week.
(d)   I am attending another Supply Chain School event on 26th October 2023 entitled: Harnessing Innovation for a Lower Carbon Future: Concrete. Learning outcomes include: how to mitigate the carbon impact of concrete; learn about recent innovation in concrete mixes that reduce carbon; and understand the benefits of offsite pre-fabrication.
(e)   For information, RIBA's Inclusion and Diversity Specialist has indicated that RIBA will be hosting an event on the 23rd of January 2024, 'Addressing Gender Inequality in the Built Environment'. This is in collaboration with the signatories of the Memorandum of Understanding (RICS, CIOB, ICE, RTPI and the Landscape Institute) as well as some of the networks in the Built Environment dedicated to advancing gender equity.

4. The Grid
Following the HS2 debacle, I posted this suggestion on Linked-In for the redeployment of capital monies. ''The UK Power grid requires a significant upgrade of its outdated network, as the current infrastructure is simply not capable of managing loads required today, let alone in the next 10 plus years. For example, this explains why (according to the National Grid) 600 renewable energy projects with a combined capacity of 176GW are waiting for a grid connection in England & Wales. Therefore, what about redeploying the HS2 monies into a 10-year investment in the GRID to create / provide capacity & resilience because quite frankly we need to 'electrify the hell out of everything' NOT issue new oil / gas licences in the North Sea. A GRID infrastructure investment programme could be developed for ALL regions of the UK, including the four economic regions of Wales, thereby supporting sustainable business development in the widest sense, as well as the retrofitting of homes et al''. By proxy, it appears that the International Energy Agency agrees with me! What do you think?