Retrofit
CEW is keen to see that the domestic retrofit and energy efficiency sectors in Wales continue to develop skills and work practices which complement Responsible Retrofit. We seek to promote best practice in retrofit works and continued learning from existing schemes to support an increased uptake in retrofitting energy efficiency measures.
Introduction
This report looks into key aspects of the responsible retrofit of traditional buildings on behalf of the Department of Energy and Climate Change (DECC). This work was undertaken by the Sustainable Traditional Buildings Alliance (STBA) which represents most of the main historic building groups in the UK as well as mainstream construction-related organisations.
The STBA Wheel - an interactive retrofit guidance tool that allows the user to customise the context and selected measures to reveal guidance on specific types of properties and conditions.
Heritage Cottage is Cadw's 129th property and youngest asset. It is a small nineteenth century terraced house in Cwmdare, in the heart of the south Wales valleys. It is typical of so many traditional buildings in Wales and elsewhere but unique in that it has remained almost completely unaltered inside and out since it was built in 1854. This project led by Cadw will ensure that Heritage Cottage is not only preserved for future generations to enjoy, but also used as a learning resource to highlight how a traditional building, whether a castle or terraced house, can retain its character while being energy efficient and sustainable with a minimum amount of work.
Post Installation Performance of Cavity Wall & External Wall Insulation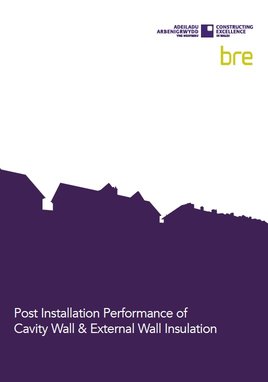 Constructing Excellence in Wales commissioned BRE Wales to undertake a review of refurbishment work to domestic properties in Wales. This review investigated the retrofitting of cavity wall and external wall insulation works. The findings of case study reviews and site visits are presented in this report "Post Installation Performance of Cavity Wall and External Wall Insulation".
The report concludes with a recommendations table highlighting areas for improvement as: Research, Standards and Policy changes (both from UK and Welsh Government), Standards and Policy changes (within the Welsh Government's devolved powers) and Training and Behaviour (from industry).