DfMA Wales
Unlocking the potential of Design for Manufacture and Assembly (DfMA) would present a paradigm shift in the construction sectors ability to support a green, prosperous and equitable Wales.
DfMA Wales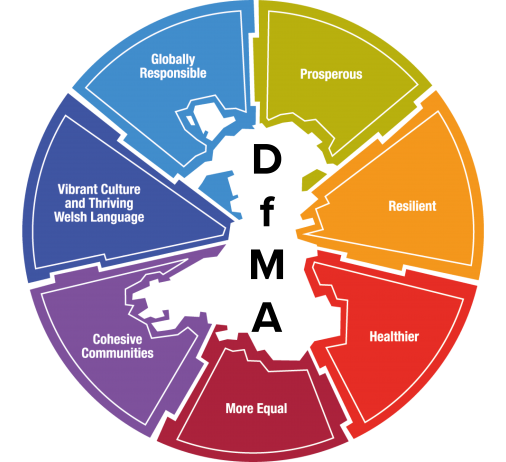 DfMA Wales is a private sector led consortium, of which CEWales is a founder member, that has united to focus on the advantages of DfMA to Wales, as a key enabler to a more efficient construction industry.  DfMA Wales ambitions are to "Foster greater collaboration in Construction between Government, Industry, and Academia in Wales to deliver sustainable prosperity for our regions and communities" by recognising the significant sector performance and enhancement possible through mainstreaming the use of DfMA.
Why DfMA
"Currently, the UK's construction industry is not living up to its full potential. It contributed £117 billion to the UK economy in 2018 and supports over two million jobs, but is one of the nation's least productive industries, and the built environment is a major contributor to greenhouse gas emissions. The government can use its weight as a major construction client to transform and modernise the industry."
Source: National Infrastructure Strategy, HM Treasury. Nov 2020
The Construction Playbook lays out best practices and sector reforms that will create a more effective construction industry and describes Modern Methods of Construction (MMC) as a route to transforming how we deliver public works projects.  MMC is a wide term covering a range of offsite manufacturing and onsite techniques, providing alternatives to traditional delivery with significant improvements in productivity, efficiency, and quality.  If MMC has been set as the goal and defines 'what we are seeking', then DfMA is the process that describes 'how it is done'.
Making the Case for DfMA in Wales
As governments seek to ramp up infrastructure spending, the construction sector needs to address the challenges of delivery in half the time, with half the carbon, and for two-thirds of the cost, whilst also addressing skills shortages and enhancing project and social outcomes.  This cannot be achieved by 'tweaking' the way that we currently work, the only way is to do things differently. The way to break this cycle of inefficiency is to concentrate on process. We must do things differently and improve our practices. DfMA Wales believes the answers to these challenges rest within the transformative processes of DfMA and all it enables. If Wales can get the strategy right, we should be able to deliver more as an industry, so Wales PLC will benefit considerably. Deployment of the process should also be simpler: assembly should be highly methodical and well universally understood. With a platform design and a standard kit of parts, upgrades, replacement, and renewal become quicker and more straightforward. We move from continuous reinvention to repeatability & continuous improvement. 
The Wales DfMA Programme
DfMA Wales will champion this industry transformation through an ongoing series of surveys, meetings, workshops, events, blogs, reports, projects, case studies, exemplars and evidenced examples of best practice to inspire every part of the industry's supply chain.  Constructing Excellence in Wales, as the united voice of the Welsh built environment sector, will host news and articles here for all to share. 
A case in point – the Dragon's Heart hospital in Cardiff
DfMA enabled the delivery of the Dragon's Heart Covid-19 surge hospital within the Principality Stadium at record pace at a time of national emergency. Building one of Europe's largest tented structures under the stadium's closed roof and constructing large raised platforms over the lower stands created the space for the new ward infrastructure on and around the pitch.  The many small and odd shaped spaces and large temporary structures added technical and design complexity to the base logistics of building a massive hospital in a matter of weeks, but DfMA processes facilitated the works with the first beds available within just 10 days.  A remarkable result epitomising the potential of both collaboration and DfMA to transform the construction sector's day to day performance in normal times.
DfMA Wales - First Industry Survey
Chief Executive Cat Griffiths-Williams sets out initial findings from the CE Wales DfMA Survey.
In early April 2021 we launched our first CE Wales DfMA survey and were delighted to quickly get a representative sample of responses from those on our data base.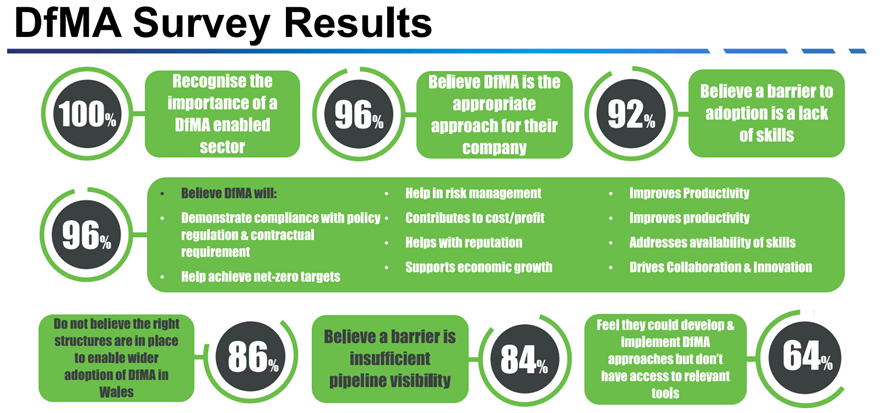 Highlights:


100% of those surveyed have worked on a project that has made use of DfMA, MMC or offsite construction and recognise its importance, however there is still a lack of awareness within the sector of what DfMA is (92%). 80% Don't think the DfMA processes are well defined and understood.
Lack of structure, data and training
68% do not believe the right structures are in place to enable DfMA.  80% do not have the right data, metrics, case studies and evidence available to make informed decisions and do not have access to training and guidance to enable DfMA to be implemented.  92% believe a barrier is a lack of skills, 84% believe a barrier is insufficient pipeline visibility.
64% feel they have the ability to develop and implement DfMA approaches but don't have access to the relevant DfMA tools.
DfMA is the right approach
96% believe DfMA is the appropriate approach for their company.  Furthermore, the majority of those surveyed (96%) believe DfMA will aid in:
-          Demonstrating compliance with policy regulation and contractual requirements
-          Helping achieve net-zero targets
-          Helping in risk management
-          Contributing to cost/profit
-          Demonstrating innovation
-          Helping with reputation
-          Strengthening the sectors support for economic growth
-          Improving productivity
-          Addressing availability of skills
The survey will soon be re-opened to expand the survey base, and a new survey will also be launched focussed on those clients that procure buildings and infrastructure that have the potential to be DfMA enabled.  This will assess their readiness to lead the industrialisation of the sector which would reap significant rewards for the sector in Wales and beyond.  More details on what DfMA actually is and those anticipated benefits will be published soon as survey results are assessed.