Troup Bywaters + Anders - Medium Employer of The Year at the National Apprenticeships Awards
Troup Bywaters + Anders were crowned as the British Gas sponsored Medium Employer of the Year at the National Apprenticeship Awards at an exclusive ceremony at London's Grosvenor House on Friday 20th January 2017.
January 20th 2017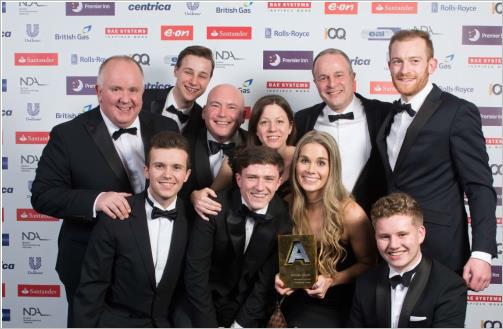 The Awards, now in their thirteenth year, are run by the National Apprenticeship Service and recognise excellence in two areas: businesses that grow their own talent with apprentices and apprentices who have made a significant contribution to their workplaces.
Troup Bywaters + Anders is a building services engineering partnership, established in 1958, employing 210 people across 8 UK offices, 20% of which are apprentices.
Troup Bywaters + Anders apprenticeship scheme is now in its 5th successful year, with apprentices being an integral part of their culture and fundamental to their strength and succession planning. Sixty per cent of their partners started as young recruits.
Neil Weller, Partner at Troup Bywaters + Anders, said:
"There is a real buzz and belief around apprenticeships at TB+A. For Partners at the business introducing apprenticeships was just a natural thing to do. They are a more traditional way of implementing engineering training and senior leaders' believe it is the
right way to bring people on and build up their skills, especially as most of us are former apprentices ourselves.
We see apprentices as our future leaders who can go all the way to run and own our business. If we keep them engaged and they identify with our culture then we will continue to secure our long term future.
The whole dynamic of the business is youthful thanks to our apprentices and they invoke enthusiasm across the board as our older engineers enjoy mentoring and passing on their knowledge."
The ceremony also saw Troup, Bywaters + Anders named in the prestigious Top 100 Apprenticeship Employer list. The list, which is compiled annually by the National Apprenticeship Service, sponsored by Centrica, recognises excellence in businesses that employ apprentices.
Apprenticeships and Skills Minister Robert Halfon said:
"Congratulations to Troup, Bywaters + Anders for your success in this year's National Apprenticeship Awards, which have showcased so much inspiring talent, dedication and ensures that apprenticeships get the prestige they deserve.
"I am always proud to see how many employers and apprentices get involved in apprenticeships across the country, helping to give a ladder of opportunity to people and deliver quality skills for employers. I hope your involvement encourages others to do the same to ensure social justice for all."
The National Apprenticeship Awards showcase and recognise the many benefits apprenticeships bring to individuals and businesses and inspire others to follow, enabling them to lead successful lives and drive economic growth in England.
Craige Heaney, Head of Learning & Development Operations, British Gas said:
"I am delighted that Troup, Bywaters + Anders won the British Gas Medium employer of the Year award this year. At British Gas we are committed to identifying potential, providing development and career opportunities, and empowering our people to make a difference in our business. British Gas is fully committed to Apprenticeship programmes and we are excited to be part of this event."
Sue Husband, director, National Apprenticeship Service was host on the night. She concluded:
"The National Apprenticeship Awards have highlighted once again the magnificent range of apprenticeships on offer - with leading employers in exciting industries - and the skills that apprentices gain when taking on these roles.
"Every year this event gets bigger and better, bringing to the forefront of our minds the importance of apprenticeships to local, regional and national economies. Apprenticeships are for everyone and I personally thank each and every employer and apprentice recognised at Friday's event for their commitment to apprenticeships."
To view the full list of award winners and finalists or for more information about apprenticeships, search on GOV.UK
About Troup Bywaters + Anders
Troup Bywaters + Anders (TB+A) are an award-winning consulting building services and engineering partnership that have been '
bringing buildings to life' since 1958. We employ approximately 210 technical and administrative staff in eight design centres UK-wide.
With nearly sixty years of experience we have had the opportunity to work for a wide variety of clients, completing a diverse range of projects across the UK and Europe. Our portfolio is a combination of public and private projects across a range of sectors including Commercial, Education, Government, Health, Leisure, Residential and Retail for new build, refurbishment and fit-out developments.
In the last five years our work has achieved more than 35 awards of excellence, a testament to our winning teams across the sectors. In 2016, we were included in the Building Good Employer Guide for the 8th consecutive year and have been awarded Investors in People Platinum accreditation, joining the top 0.5% of organisations across the UK to achieve the coveted platinum standard.
In 2016 we were also crowned winners of the Excellence in Social Responsibility category at the IiP Awards, winners of the London Region (Medium Employer) at the National Apprenticeship Awards, winners of Best Apprenticeship Scheme at the CIPD People Management Awards and winners of Best Apprenticeship Scheme at the Construction Investing in Talent Awards 2016.
In 2015, IiP recognised that we were in a position to assist other organisations with their IiP journeys by providing them with advice and sharing best practice in people management, and in doing so awarded us the Champion endorsement, one of a small number of organisations in the UK to hold this accreditation.
For more Information, please contact:
Leigh Williams Head of Marketing & Communications
l.williams@TBandA.com 020 7504 1439
About the National Apprenticeship Awards
The National Apprenticeship Service challenged the nation's top apprenticeship employers and apprentices to come forward and show how apprenticeships have made a real difference to them. Now in their twelfth year, the National Apprenticeship Awards are an opportunity to highlight the many success stories and the benefits of Apprenticeships.
There are six employer categories ranging from Small to Macro, and two newcomer categories – large and SME. Categories are open to employers of all sectors.
For the fifth year running the very best employer category entries will have the additional bonus of featuring in the prestigious annual Top 100 Apprenticeship Employers list.
There are four apprentice categories, which are: intermediate, advanced and higher apprentice of the year, and the hotly contended apprenticeship champion of the year.
The National Apprenticeship Service
The National Apprenticeship Service supports the delivery of apprenticeships and traineeships in England. It offers free impartial advice and support to employers looking to recruit for the first time or expand their programme. This includes simplifying the process of recruiting an apprentice or trainee through the support of employer focused teams and Find an apprenticeship and Find a traineeship recruitment sites on GOV.UK where employers can advertise their vacancies and potential apprentices or trainees can apply.
Call 08000 150 600 or search for apprenticeships on GOV.UK to find out more