Inherit The Wind
The biggest wind farm development in England and Wales is being completed by Jones Bros and Balfour Beatty and could generate £1.8M a year for local people every year for 20-years.
17th July 2015
Pen y Cymoedd Wind Energy Project is going to be the largest onshore wind scheme with a total of 76 turbines that when it is finished and operational by 2017 will generate enough electricity to power 140,000 homes.
Built as a 50:50 joint venture with Balfour Beatty and Jones Bros Civil Engineering UK it is located on land managed by Natural Resources Wales within Rhondda Cynon Taf and Neath Port Talbot situated between Neath and Aberdare in South Wales.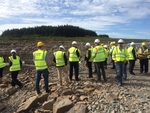 It is an excellent example of not just what great construction can deliver, but also what it can enable if the scheme is approached correctly with one eye on collaborative procurement and the other on long term value. Pen y Cymoedd will provide a Community Fund of £1.8 million per annum for more than 20 years and more than 3000 residents of the upper Rhondda, Cynon, Afan and Neath Valleys had their say on what they think the money could do in the area.
There is huge potential within all the ideas that have come in – developing the possibilities so they can deliver maximum benefit is the next task for the community.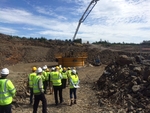 Meanwhile, the civil engineering work will see 50,000m³ of concrete, 6,000 tonnes of reinforcement used to construct the 76 turbine bases and crane pads along with the construction of around 80km of access tracks, as well as 80km of cabling. Two-thirds of all plant operatives have been recruited from within 30 miles of the site and it is hoped that six apprentices will be employed over the course of the project, in roles including plant operation and maintenance.
As well as gaining support for their local initiatives via the benefit fund local people are in touch with the project via their schools. Over the last three months around 200 primary school pupils from both Rhondda Cynon Taf and Neath Port Talbot have visited the site
For more information about the scheme please contact the CEW team.